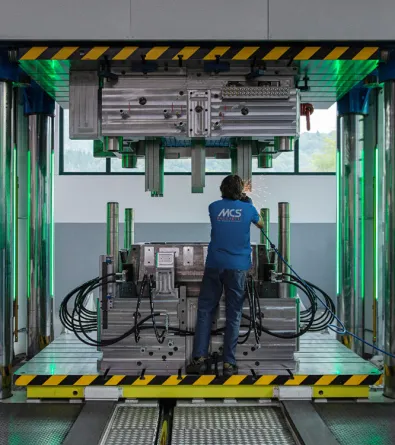 We have been operating in the field of thermoplastic moulds for over forty years. We have therefore gained experience in:
mono-material thermoplastic injection
multi-material thermoplastic injection (TWINJECT – 2K – 3K)
co-moulding (INSERT MOULDING)
gas-assisted injection(GIM)
MuCell injection with microcellular expansion
Our products are mainly intended for the automotive and industrial vehicle sectors, where they are used for the production of dashboards and panels and mechanical and plant engineering components.

Our moulds are also used in the fields of large packaging, sanitary equipment, technical components and design; these are target markets where particular aesthetic-functional needs must be balanced with mechanical and performance constraints of the production stage, which requires the use of highly innovative and unconventional solutions available to our design office.

Dealing with such a vast sector allows us to pool into injection moulds the expertise acquired in the field of die-cast moulds and apply it with the necessary distinctions. Such an approach is a valuable source of improvement for the entire corporate system.
OUR PROJECTS